I'm still in the process of migrating my aging portfolio over from clarityengine.com, so feel free to pop over there, but that hand-coded site was hard to update. Thank you for your patience!
About a decade and a half ago, I introduced my wife to life with YNAB. This week she got me to contemplate a life with YNAB. I would be thrilled if you were to consider bringing me in as part of the YNAB family! Working with you will be a breath of fresh air.
We've been using YNAB since YNAB 3, as refugees from the sunsetting of Microsoft Money, where I cut my teeth in financial literacy since version 1.0 my brother installed for me on my PC one lazy summer. Before that I was making spreadsheets for my mom in 7th grade in Ashton-Tate Framework II. My wife and I were just about ready to graduate from using literal cash-in-envelopes when we found out about you. We have to admit though, we still aren't great at the four rules, but we won't ever give up.
My career started with Cooper Interaction Design (founded by Alan Cooper, the "father of Visual Basic"), where we brought personas to the design world, and where I developed a reputation for "channeling" users, the "straightest whiteboard lines in the industry" and screen-accurate comps that clients tried to click on.
Naturally, I believe personas need to be well-crafted not only as a research, design and communication tool, but as a way to surface, develop, and encapsulate the many assumptions and deliberate decisions made in the course of an evolving solution.
The natural conversations I weave in the course of a project evolve into life-like and believable persona sets, a cast of characters that show not only who we are designing for, but also include those that interact with our users, declare who we are not designing for, and express the posture and voice of the product.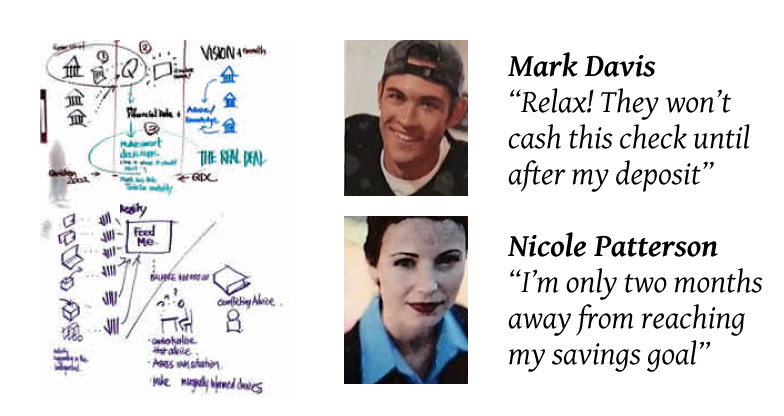 For example, once we were pitching a (very well-known-cough) financial software company, so I created provisional personas to identify and explain the gaps and opportunities in reaching the audience that most needed to get comfortable with personal finance. That was when their "budgeting" screen was just one page for the whole year. I wish they had taken us on the challenge.
I also believe that Interaction Design (my preferred term) is a conversation—between the user and the product, and also between the user and other people in their lives. Conversations are best designed in conversation, so I naturally pursue (and coach other designers, clients, or even developers in) designing with close partners, an old Cooper secret-sauce shared with the world as Pair Designing.
I always aim to make software more forgiving.
Could YNAB allow people to do a "fresh start" in budgeting but not lose continuity in the "investment" of having tracked all their spending so far? Could we further lower the fear people paradoxically have about looking into the reality of their finances when they most need to be paying attention?
Could we allow people to make balance adjustments but catch up later, and be able to budget for this month even with incomplete records?
Could we give couples a safe place to have healthier conversations, to owning mistakes, to feel comfortable making their needs known, and to better understand changes on the go?
Could we train up our children in financial literacy and give them some siloed control over the family finances?
Over the years, our courageous family has moved from San Jose, CA to Beijing, and now Seoul, Korea. I've worked on everything from desktop, web apps, (some) mobile, devices, scientific and medical equipment, complex software for linguists, and a whole lot of "serious" software—from SAP to a tool for big-data visualization and analysis, which later became the open-source Apache Zeppelin.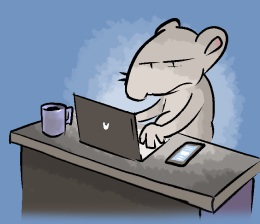 A note on time zones: Seoul, Pacific, Mountain, UTC Meeting Times

I'm already ready to roll at 6AM, which is 1PM Pacific or 2PM Mountain Time

The big plus is that I'll always be home on time to do all the voices while reading my daughter Dog Man or sing another round of llanfair-pwll-gwyngyll-goger-ychwyrn-drobwll-llantysilio-gogogoch
Last summer as I was helping my parents move out of their old home, I found my grandmother's budget books from the 1970s. These thick gagyebu 가계부 were given out with women's magazines for decades. With most personal finance apps today incentivized to funnel customers to more and more lucrative services for their banking partners, Korean apps like BankSalad advocate a passive hands-off approach, scraping data like Mint does (banks in Korea have recently agreed to a national open API for personal financial data, syncing all your accounts across institutions in just one-step). This runs counter to the long history of Korean moms carefully budgeting for a better future! YNAB could lead the way in making the old ways new again.
If Hannah's videos are any indication, I think I'm going to feel right at home at YNAB. I read your job description with the strange feeling that I had written it myself some years ago.
I'm looking forward to talking with you, with hopes that some on my pet feature wish list would get some love in this app that's stayed with us through the years… and to get better at budgeting ourselves.
With sincerity,
Berm Lee